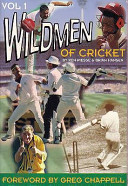 $15.00
AUD
$24.95
(39% off)
Category: SECONDHAND BOOKS | Series: World Sports and Outdoor Recreation Ser.
This volume explores cricket's most explosive characters, from Bradman to Lara, and Miller to Warne. It also investigates cricket's most notorious and colourful incidents, the hatreds, feuds, glories and catastophes. Some of the men included are: Sid Barnes, Don Bradman, and Ian Botham.
$20.00
AUD
$43.95
(54% off)
Category: SECONDHAND BOOKS
Exhaustive statistical record of Australian cricket. Includes details on batting, bowling, fielding, Test matches, touring teams, state records, the Sheffield Shield competition, and limited over records. Volume five in Jack Pollard's history of Australian cricket.