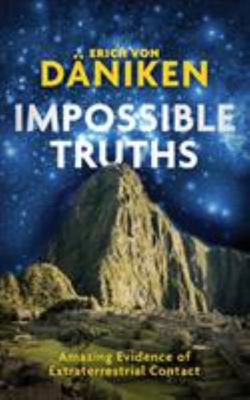 $20.00
AUD
$32.99
(39% off)
Category: SECONDHAND BOOKS
Impossible Truths showcases the classic, provocative von Däniken theories for a new generation. For more than four decades, Erich von Däniken has been elaborating his astounding thesis that the inhabitants of other planets have kept in contact with humanity since the earliest times and that they are sti ll communicating with us today. In this book he presents new eyewitness proof of extraterrestrial activity, as well as evidence from expert informants that has remained secret until now. He also highlights the findings of new research that he has been able to undertake as previously inaccessible areas have opened up, such as the jungle city of "Buritaca 200" (Ciudad Perdida) in Colombia. It was once thought that only the ancient Nazca people of Peru scraped gigantic images in the ground. Now, thanks to Erich von Däniken, we know that this is a phenomenon seen all over the world, from Jordan and Saudi Arabia to Chile and Mexico: immense circles and wheels, mile-wide images that look like dragons or supernatural beings with rays extending from their heads. "When will people finally grasp the global basis of the Nazca phenomenon?" asks von Däniken. He believes these ancient geoglyphs were created as messages to the gods, to signal to the extraterrestrial beings that people had seen with their own eyes moving about the sky. More than 150 full-colour photographs substantiate von Däniken's theories and let the reader assess for themselves the stunning visual evidence. These spectacular findings will teach us how to be truly amazed again. ...Show more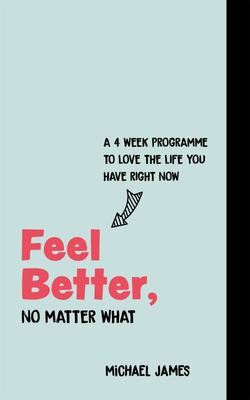 $29.99
AUD
Category: MOTIVATION
A 4-week course offering new tools to deal with the challenging emotions that get in the way of enjoying life. These incredible self-soothing methods, created by a highly respected life coach and inspirational speaker, really do work. Do you feel your life could be a lot more successful and fun - but it 's not happening? Do your overthinking and intense emotions keep getting in the way of enjoying life? Do you struggle following advice such as let it go, be positive and live in the moment? Do you keep falling back - despite your best efforts - into the same old relationship problems, mood swings and self-esteem issues? This book has a radical message: You don't need self-improvement to enjoy your life. You don't need to be better. You are ok just as you are. Step-by-step, this innovative 4-week course teaches you to free yourself from intrusive thoughts and challenging emotions, so you can step out bravely into the world, not caring so much what others think. There are no complicated theories, rituals or practices here, only simple techniques that will enable you to step away from overthinking, self-criticism and fear to live as your already empowered Real Self. Living a good life doesn't need to be complicated. Amazing things happen when you know how to be yourself and love yourself, shining bright as who you are. ...Show more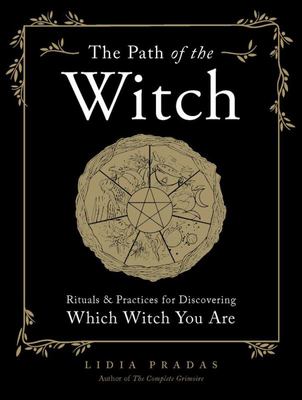 $32.99
AUD
Category: MOTIVATION
The Path of the Witch is a practical and authentic guide to the different paths of witchcraft by Lidia Pradas Sala, creator of the hugely popular Instagram handle Wiccan Tips. Elegantly designed and gorgeously illustrated, The Path of the Witch presents the key paths and practices of witchcraft. Witchcr aft is not one defined path-rather, it is a diversity of practices you can curate and align with based on your lifestyle and unique gifts. Which witch are you? • Do you have an affinity for working with plants and herbs for magic and medicine? You may be a Green Witch. • Is the kitchen and home space sacred to you? Are you able to tap into the sensory and healing properties of food for spellwork? Is cooking an intentional act for you? You may be a Kitchen Witch. • Are you able to easily connect with the spirit world or the liminal realms? You may be a Hedge Witch. • Can you do many practices with ease? You may be an Eclectic Witch. The Path of the Witch describes the many different types of witches, their gifts and abilities, and their practices. Each path shows readers activities and rituals that they can use to discover and explore that type of witchcraft and discern which one is the fit for them. ...Show more
$27.99
AUD
Category: MOTIVATION
Mindful Astrology makes learning everything you need to know about this mysterious divination method simple, fun, and amazing for beginners and experts alike! In Mindful Astrology, best-selling self-help author Monte Farber uses a unique metaphor to teach you how to use astrology to decipher yourself an d others and as a mindful practice to recharge your mind, body, and spirit. Ever wonder what's behind the simple question of "Whats your sign?" To begin, this common question really is referring to your Sun Sign, the sign of the zodiac in which the Sun passed when you were born that represents your ego, purpose, and energy. The 12 astrological Sun Signs each interpret the world from a very different perspective. But there are also some other lesser known components like your Moon Sign, which refers to the sign the Moon was in at the moment of your birth and represents your emotional intelligence, in addition to your Rising Sign, which determines how you appear to others. Learn everything you need to know about astrology using three metaphors-(1) a curved mirror, (2) light and film, and (3) a lens-to interpret the complex balance of these underlying components. Your Sun Sign represents light (the essence of the movie); your Moon Sign as the curved mirror (the inner workings that no one necessarily sees); and your Rising Sign as the film and lens (what people see). Find out who you and the others in your life truly are! ...Show more
$24.99
AUD
Category: MOTIVATION
Astrologer Stephanie Gailing offers a modern approach to the ancient healing art of astrology using foods, essential oils, flower essences, spa therapies, relaxation practices, and other healing tools as they relate to each astrological sign. The keys to wellness are written in the stars. In The Complet e Guide to Astrological Self-Care, astrologer Stephanie Gailing offers a modern approach to the ancient healing art of medical astrology. From impulsive Aries to balance-seeking Libra, methodical Virgo to sensitive Pisces, each astrological personality is distinct, with specific needs of body, mind, and spirit. Divided into twelve chapters, one for each astrological sign, The Complete Guide to Astrological Self-Care illustrates in words and images the natural remedies and wellness techniques customized for each sign. Every chapter begins with an overview of the general qualities of that particular sign as they relate to health and wellness, including the specific parts of the body associated with that sign. Gailing then presents five holistic health approaches, with a number of sign-specific suggestions for each approach, including: • Dietary approaches to wellness and specific health-supporting foods (for instance, a Taurus should grow their own herbs and use honey as their sweetener, while Capricorns should break out of their routine and try new foods, as long as they incorporate lots of calcium-rich greens into their diet) • Spa therapies that are particularly advantageous (couples' massage is great therapy for Libras, while Aquarians resonate with Reiki) • Recommended relaxation practices and yoga poses (Virgos should garden to unwind, while swimming is what the Piscean needs to find inner peace) • Beneficial essential oils for use in aromatherapy (frankincense can inspire Leos, while clary sage nurtures Cancers) • And finally, a listing of the best flower essences for each sign (impatiens is for Aries, and Sagittarians will take to agrimony) Align your self-care routine with the stars with The Complete Guide to Astrological Self-Care. Elegantly designed and beautifully illustrated, the Complete Illustrated Encyclopedia series offers comprehensive, display-worthy references on a range of intriguing topics, including dream interpretation, techniques for harnessing the power of dreams, flower meanings, and the stories behind signs and symbols. ...Show more
$27.99
AUD
Category: MOTIVATION
An entry-level guide to the spiritual traditions, practices and roots of witchcraft: learn how to tap into magic and connect with the natural world while performing rites and rituals; cast spells, make magical charms and take psychic journeys as you make contact with natural spirits.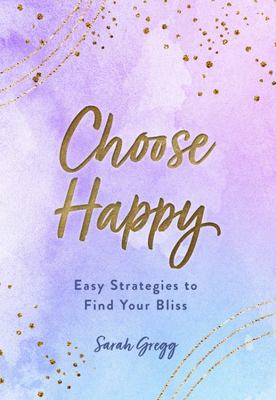 $24.99
AUD
Category: MOTIVATION | Series: Live Well Ser.
With Choose Happy, learn how to be happy in the present by healing your past and setting yourself up for future success and less worries.
$22.99
AUD
Category: MOTIVATION
Every culture rests on a bedrock of folk wisdom handed down through generations. The pronouncements of philosophers are homespun by our grandmothers, and find their way into our common sense: what doesn't kill you makes you stronger. Do unto others as you would have done unto you. Happiness comes from within. But are these 'truths' really true? Today we all seem to prefer to cling to the notion that a little bit more money, love or success will make us truly happy. Are we wrong? In The Happiness Hypothesis, psychologist Jonathan Haidt exposes traditional wisdom to the scrutiny of modern science, delivering startling insights. We learn that virtue is often not its own reward, why extroverts really are happier than introverts, and why conscious thought is not as important as we might like to think... Drawing on the rich inspiration of both philosophy and science, The Happiness Hypothesis is a remarkable, original and provocative book - ancient wisdom in our time. ...Show more
$22.99
AUD
Category: MOTIVATION
'Life is difficult. This is a great truth, one of the greatest truths.' A timeless classic in personal development, The Road Less Travelled is a landmark work that has inspired millions. Drawing on the experiences of his career as a psychiatrist, Scott Peck combines scientific and spiritual views to gu ide us through the difficult, painful times in life by showing us how to confront our problems through the key principles of discipline, love and grace. Teaching us how to distinguish dependency from love, how to become a more sensitive parent and how to connect with your true self, this incredible book is the key to accepting and overcoming life's challenges and achieving a higher level of self-understanding. ...Show more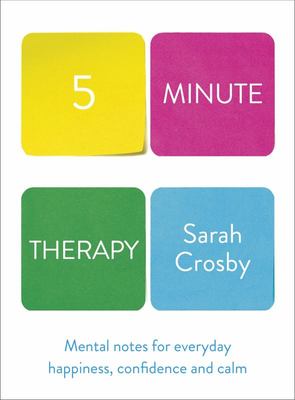 $29.99
AUD
Category: MOTIVATION
This book is your pocket therapistFive Minute Therapy makes being the best version of yourself quick and easy. Who am I? What does that dreaded phrase 'Just be yourself' even mean? What does it mean to be 'authentic'? These big questions can feel overwhelming; in Five-Minute Therapy, psychotherapist Sar ah Crosby will help you to find the answers with psychological explorations, exercises and guidance to apply to your own life, one step at a time.Including chapters on attachment, boundaries, self talk, triggers, reparenting and more, this book will help you to find long-lasting happiness, confidence and calm in yourself and your relationships.From psychotherapist Sarah Crosby, aka Instagram sensation @themindgeek ...Show more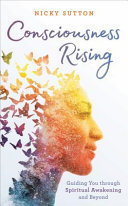 $24.99
AUD
Category: MOTIVATION
A compassionate guide to the process and challenges of spiritual awakening, from breakthrough and enlightenment to finding peace, balance and connection with your higher self. Many of us are seeking - consciously or unconsciously - truth, inner peace, love, greater understanding or a profound connection to all that is. Sometimes tumultuous life events, such as a breakup, bereavement, accident or illness, cause a spontaneous shift within us that we're not prepared for. In this book, spiritual and meditation guide Nicky Sutton breaks down the stages of a spiritual awakening and leads you full circle on your journey from awakening to rebirth. You'll find- * Transformative exercises to connect with your true self * Activating practices such as soul retrieval, inner work techniques, intuitive development and manifesting to progress on your journey * Support and reassurance that you're not alone through real-life stories of others' spiritual revelations * Advice on how to move through the more challenging aspects of this inward journey Whether your awakening is challenging, blissful or something in between, this book can support you through awakening to a place of peace and joy. ...Show more